We appreciate your visit to our website. Here you can find all our Unity Asset Store products, either free or commercial. Also you can find more information in regard to our products, their screenshots, as well as their corresponding links towards Unity Store Page. All our products are categorized, and you can see them listed on the right, with updated prices. 
You can always contact us using "Contact Us" form. We will do our best to answer as soon as possible. 
We are providing support for bought products, as well as our services, should you decide to upgrade some of them. 
Thank you, for checking out our products. 
Best regards, 
Digital Hamster! 
---
  Check out our latest products here, or browse them by category in the right menu: 
---
Fat Zombie Male - Character

Price : $10
Status : Published

 

Info :
Diffuse : 2
Normal : 1
Models : 4 
- High Poly
- LOD 0
- LOD 1
- LOD 2

Rigged : Yes
Humanoid Compatible : Yes

Included Animations : 0
Mumble Trivia Bot is free software that can connect to a Mumble Trivia Server and host Trivia Games for users.
It's highly customizable and it comes with included Trivia Editor, as well as with Open Trivia Database support.
Hosting games is as easy as typing "!start! within the channel chat. The bot will take care of everything else. 

Features :
- Hosts Trivia Games on Mumble Servers via Mumble Channel Chat
- Keeps track of scores per server and session
- Highly customizable, with multiple Question types including Simple ABCD, Proximity and True/False types of Questions
- Can be controlled by other users using Chat commands within Mumble Channel
- Randomized Answers and Questions 
- Built-in Trivia Editor Allows easy creation and modification of Trivias
- Open Trivia Database Support - This service provides Trivia Questions via API; Import up to 50 questions per click from the desired category and create Trivia Libraries with Ease
- Third-party localization is supported
- Export and Share created Trivia Libraries with other Mumble Trivia Bot users
- Detailed Help File Included

Read More and Download
Do you enjoy Windows Spotlight images on your lock screen?
Wouldn't it be great to have those same images on your desktop background?

The WinDesktop Spotlight application gets those images for you, stores them in a local folder which is synced, gives you the freedom to sort them, preview them, set them as desktop background ... 
You can set a scheduled task to daily change your desktop background and sync new images that Windows Spotlight downloads.

If you don't want to use main application - you don't have to, just set it once and you're done!
The Application will take care daily and make sure that you get new fresh images on the background.
Since all actions are run daily by Task Scheduler or when you start the app, your OS will not be clogged by background processes or services that run all the time.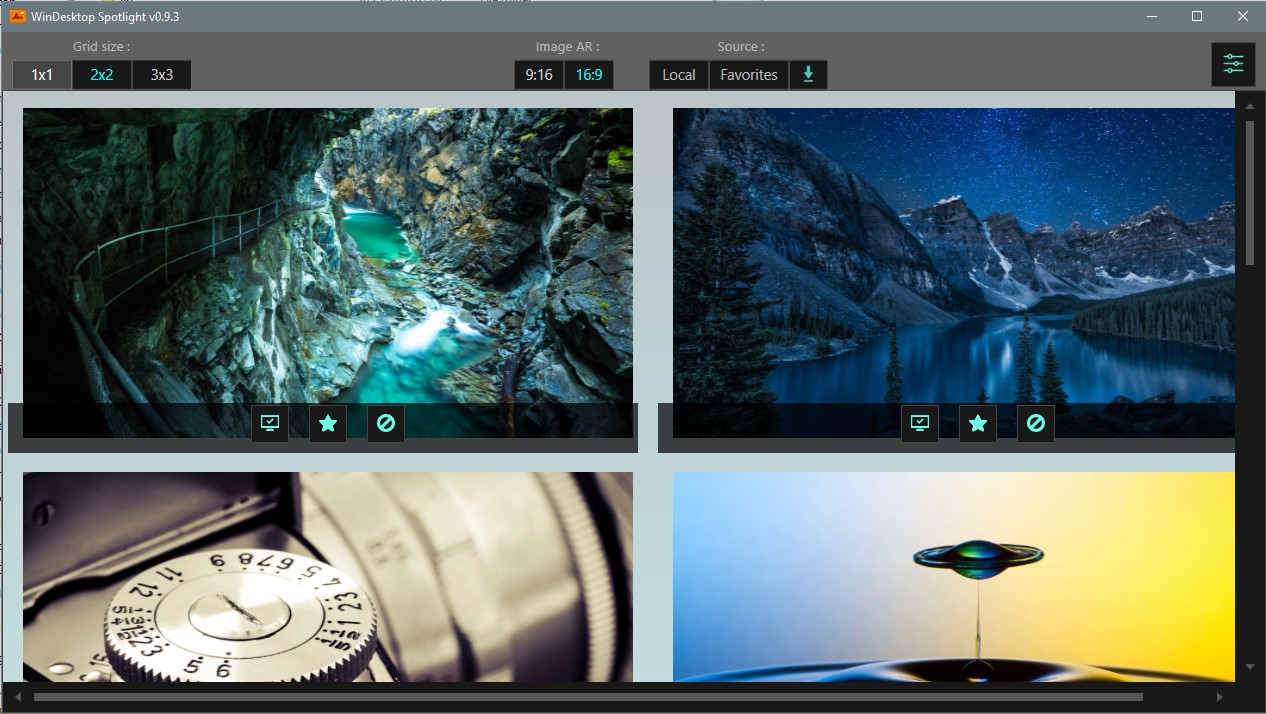 Main features :
Local folder Sync with Windows Spotlight folder
Sorts image files by their aspect ratios, 16:9 or 9:16
Allows you to favorite or blacklist images 
Allows you to set those images as backgrounds
Can change background and sync daily
Download new images and add them to the app
Use synced folder with any other app or even Windows itself